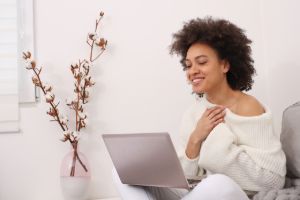 Dr. Taji Huang PhD is a licensed psychologist who offers online counseling to patients in California. She has experience counseling patients through various media applications such as FaceTime or Skype. Online counseling is a convenient way to speak to a licensed psychologist from the privacy and comfort of your home. For those looking for a professional psychologist, this is an opportunity to be counseled by Dr. Taji without having to travel a long distance to meet with her.
During the COVID-19 pandemic, it's also the perfect way to start or keep up with therapy while practicing social distancing.
Online Platform Options
Dr. Taji offers counseling online therapy through a variety of convenient platforms. Contact the office for information about her availability to communicate with you via the internet. She has extensive experience helping those in need of various approaches to counseling. If you are a busy person with a hectic schedule, or simply being cautious during the pandemic, this is an easy and effective way to get the help you need and keep your progress from slowing down. Dr. Taji uses several different ways to connect with patients.
Zoom
Skype
Facetime
Houseparty
Talkspace
Betterhelp
Regain
Long Distance Counseling
If you are not located in the Glendale area or have difficulty physically attending therapy sessions, Dr. Taji provides long-distance counseling for your convenience. She is capable of providing professional mental health care without having to be physically in the room with a patient. Having a therapy session with Dr. Taji via the internet on your tablet, computer, or FaceTime on your smartphone is a convenient way to receive professional counseling.
Get help with many different conditions while in the comfort of your home, office, or other personal space.
Counseling From Home
Recently, an increased number of psychologists are making their practices more viral allowing patients to communicate through the internet. This is a convenient way for patients to attend therapy sessions without leaving home.
Follow the steps below to initiate your online therapy session with Dr. Taji Huang:
Call Taji to discuss your therapy needs.
Send payment through PayPal for your session.
Complete New Patient Forms and email them to Dr. Taji.
You must be California resident with proof of residency and copy of your California photo ID in order to be a patient.
Give Dr. Taji your Skype ID and set a time and date for your session.
On the date you have set, Dr. Taji will call you to meet with her via Skype or FaceTime, whichever you prefer.
Better Online Counseling In California
Contact Dr. Taji Huang PhD for more information about setting up your first appointment with her for an online session. She is one of California's top psychologists and is ready to help you through whatever you may be struggling with. You don't have to miss out on the benefits of therapy during the pandemic, or travel far from your home – online therapy options are available for California residents. Book an appointment today.