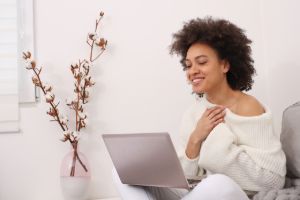 Online therapy offers a convenient private method for patients to seek mental health counseling for a variety of concerns. Licensed psychologist Dr. Taji Huang provides online therapy and counseling sessions to patients in the state of California. Dr. Taji uses video therapy to connect with users in the privacy and comfort of their homes. Telepsychology has the following benefits for patients:
No Long Travel time
Broader Access
Comfortable Environment
Full Privacy
Online Therapy Is Effective & Convenient
Online therapy, also known as teletherapy, has gained popularity for its accessibility and convenience. Here are some highlights and benefits of online therapy sessions:
Accessibility: It eliminates geographical barriers, allowing individuals to access therapy services from anywhere in the state of California. This is particularly beneficial for people who live in remote areas or areas with limited access to mental health professionals.
Convenience: Online therapy provides flexibility in scheduling. Clients can attend sessions from the comfort of their own homes, saving time and eliminating the need for travel. This can be especially advantageous for individuals with busy schedules or mobility issues.
Increased Anonymity: Some individuals may feel more comfortable discussing personal and sensitive issues in the privacy of their own space. Online therapy allows for a degree of anonymity that may help people open up more freely.
Consistency of Care: Online counseling can provide more consistent care, especially in situations where in-person sessions might be disrupted due to travel, weather conditions, or other unforeseen circumstances.
Comfort and Familiarity: Being in one's own environment during therapy sessions can enhance comfort and a sense of familiarity, potentially making it easier for individuals to open up and engage in the therapeutic process.
Continuity of Care: This method can provide continuity of care during times of crisis, such as natural disasters or health emergencies, when in-person services may be disrupted.
As long as you have a private space and reliable internet connectivity, long-distance counseling is within reach.
Conditions That Benefit From Online Counseling
Dr. Taji specializes in helping patients manage the following conditions in the comfort of their home, office, or other personal space. Any mental health conditions would benefit from consistent, experienced therapy, including during online sessions.
How To Set Up Your Online Therapy Session
Making an appointment is not complicated. These simple steps listed below can help you schedule a session with Dr. Taji Huang.
Call our office during business hours to discuss your therapy needs.
Send payment for your session or give the office your insurance information.
Complete all New Patient Forms and email them to Dr. Taji.
You must be a California resident with proof of residency and a copy of your California photo ID.
Give Dr. Taji your preferred platform ID and set a time and date for your session.
On the date you have set, Dr. Taji will call you to meet with her on the platform of your choice.
Available Online Platform Options
Dr. Taji offers counseling online therapy through a variety of convenient platforms. She has extensive experience helping those in need of various approaches to counseling.
Zoom
Skype
Facetime
Houseparty
Talkspace
Betterhelp
Regain
How Effective Is Teletherapy?
Online or teletherapy supports patients just as much, if not more, than in-person visits to the office. Some studies have found that online counseling alleviates the symptoms of depression more effectively, giving patients a safe space to express themselves openly and work through their emotions and difficult situations. For those who receive Cognitive Behavioral Therapy (CBT), online therapy may have more impact.
Find Better Online Therapy In California
Contact Dr. Taji Huang PhD for more information about setting up your first appointment with her for an online therapy session. She is one of California's top psychologists and is ready to help you through whatever you may be struggling with. You can reap the benefits of therapy from anywhere. Online counseling options are available for California residents only. Book an appointment today.